Some Nearby Major Places of Interest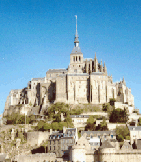 Le Mont St. Michel – is among the most visited places in the world, and for good reason, so go early in the day or after dark when there are fewer visitors. We are near enough to make this practical and the journey there of just over an hour is an easy one.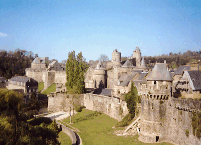 If you find you have a taste for the architecture, you'll find more at Vitré or Fougères, and you'll have no trouble with crowds here off the beaten track.

Not far beyond Le Mont is the fortress town of St. Malo, located on the beautiful rocky Emerald Coast where the clean sandy beaches and sparkling water can hardly fail to delight you, while inland from St. Malo is the bustling historic town of Dinan with its cobbled streets and timbered houses. Another favourite with our visitors is Bayeux, a pretty cathedral town where you will find the famous tapestry, and not far beyond are the Landing beaches of Normandy, to remind you of darker times.
---
More Local Places to Visit

Mayenne is an attractive riverside town 12 miles to the east and worth exploring. The Department, the River and the Town all share the same name. The nearby cloth manufacturing village of Fontaine Daniel with a lake set in the woods is particularly picturesque.
Gorron is 3 miles away and has all the facilities one expects in a small French town, i.e. boulangeries/patisseries, supermarkets, post office, bars, restaurants/pizzeria, swimming pool, recreational facilities, pharmacies and doctors' surgery. Ernee is 7 miles south-west and has the same facilities on a slightly grander scale.
Visit Domfront, a medieval town set on a hill with fine views and a ruined castle, or Pontmain, with beautiful stained glass in two very different churches inspired by 19th Century visionaries.
Weekly Markets are held in most local towns; the Wednesday morning market at St. Hilaire du Harcouet is recommended.
We are always happy to offer help and advice on making the best of the area, and ensuring your holiday is a memorable one.
There are many other places of interest; we can advise you once you are here. One exceptional attraction on our doorstep which is within walking distance is Les Jardins des Renaudies Parc Floral, open from May to September, where you'll find an astonishing variety of plants arranged in what the French claim is 'the English style', together with a collection of ancient agricultural tools.
---

Go Back to the Top

Go to Phil Masters's Home Page